Kick start of Training Programme of Nomadic Tribes
23/07/2016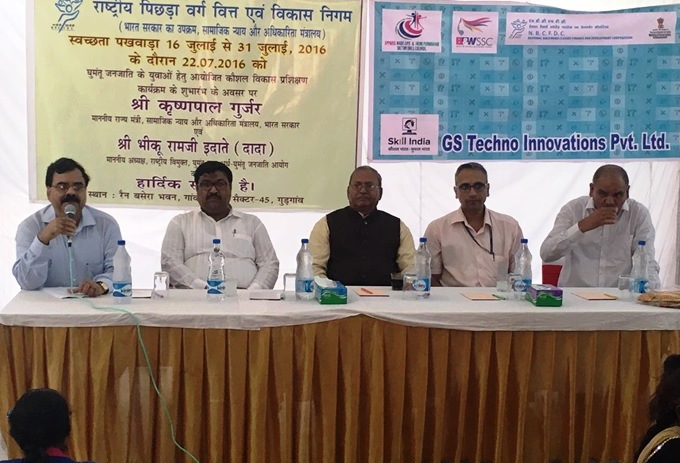 Apparel, Made-Ups & Home Furnishing Sector Skill Council has been formulated by the Ministry of Skill Development and Entrepreneurship, Govt of India and NSDC to develop Skills repository for Apparel value chain, National Occupational Standards in the industry, establish well-structured Sector specific Labour Market Information System and improvise the training delivery value chain, including third party assessments and certifications.
The mandate given to the Council includes creation of National Occupational Standards, Affiliating Training Providers in Apparel Trainings and assessing and certifying the trainees of such Institutes/Training Providers.
The Council has been given an ambitious target of certifying more than 2 million persons till 2022 in the Skilling Courses for the Apparel sector.
AMH SSC and National Backward Classes Finance and Development Corporation, Ministry of Social Justice and Empowerment, Govt of India have launched a big programme for the members of Nomadic Tribes in the country. Today, the Training Programme under the Job role 'Hand Embroiderer' was kick started for 20 girls of Nomadic Tribes at Kanhai village, Gurgaon. The course was inaugurated by Mr. Bhiku Ramji Idate, Chairman National Commission for De notified, Nomadic and Semi Nomadic Tribes. The function was also attended by Mr. K Narayan, MD, NBCFDC and Dr Roopak Vasishtha, CEO, AMH SSC.
During the function, representatives of industry; namely Mr. Shalabh Srivastava of Matrix Clothing and Mr. Vikas Kapoor of Orient Craft were also present. They gave assurance to students that successful candidates would suitably be appointed by them.
AMH SSC and NBCFDC, together, are training more than 3000 candidates of members of OBC in the Apparel Trade, out of which 10% trainings would be for the members of Nomadic Tribes.